Brief. Le Periplo etravel guide are physical and digital travel guides, a brand created and based in Madrid / Barcelona. It arises from the idea of ​​unmarking the common guides and publishing cities with a different perspective and focused on experiencing the moment that destination lives as a resident would. 
Objective. Le Periplo stand up for lesser-known cities or those that have a little-explored second side, telling them through a route with a geographical situation in which the different recommendations are happening; a cafeteria, a monument, a restaurant, a special and photographic location or a store that brings together local artists...                                       
Make that traveler explore that destination in a personal, inspirational way and understanding how the city or country is settled.
Brief. Le Periplo etravel guide son guías de viaje física y digital, una marca creada y establecida entre Madrid y Barcelona. Surge por la idea de desmarcarse de las guías comunes y dar a conocer ciudades con una perspectiva diferente y enfocada a experimentar el momento que vive ese destino como lo haría un residente. 
Objetivo. Le Periplo aboga por ciudades menos conocidas o que tienen una segunda cara poco explorada contándolas a través de un recorrido con un orden geográfico en el que se van sucediendo las diferentes recomendaciones; una cafetería, un monumento, un restaurante, una localización especial y fotogénica o una tienda que agrupa a artistas locales... hacer que el viajero/ viajera explore ese destino de una manera personal, inspiracional y entendiendo cómo se establece la ciudad o el país.
Naming. Related to the brand name, and extracting the essence of telling different experiences to future travelers, it was based on what Periplus is by definition: 
1. Long trip through many countries. 
2. In the past, navigation that was done around an island or a continent. 
("Navigation around", whose Latin equivalent is navigatio, "navigation"). It is a type of ancient document that contained the set of observations made on a sea voyage that could be useful to future sailors: distances between points, descriptions of the coast, winds, ... It was used by Phoenician, Greek and Romans. By extension, the term periplus is used as a literary way of describing a journey full of varied experiences.
Naming. En la decisión del nombre de la marca, y extrayendo la esencia de contar un conjunto de experiencias a viajeros futuros, surgió basarlo en lo que es Periplo por definición:
1. Viaje largo por numerosos países.
2. Antiguamente, navegación que se hacía alrededor de una isla o de un continente.
(«navegación alrededor», cuyo equivalente latino es navigatio, «navegación»). Es un tipo de documento antiguo que contenía el conjunto de observaciones hechas en un viaje por mar que podían ser útiles a los navegantes futuros: distancias entre puntos, descripciones de la costa, vientos,... Era utilizado por los navegantes fenicios, griegos y romanos. Por extensión, se usa el término periplo como una forma literaria de describir un viaje lleno de experiencias variadas.​​

Visual identity. The corporate identity is based on a clean and timeless image, a key color and a typographic logo that plays with a current, fresh and colorful image that is represented in each guide making each number unique, but cohesive with the other issues. 
The corporate font that makes up Le Periplo logo is Morion. A serif typeface, elegant with soft shapes where the points and punctuation marks are made in rhombus shapes. A graphic resource to mark a location or a route. Another main typeface is Domain, also serif but with soft and curved shapes for titles, header texts and featured introductions. And the Futura Std as secondary typeface, is a sans serif font that facilitates readability.
Marsala color plays an important role in the visual identity along black and white. 
Graphic system. Grid messages such as notepad, passport stamps with messages and the presence of diamonds to define the information distribution. In addition to an iconographic system created to represent the type of recommendation / tip, where each icon is built on an unfinished line as if it were a tour.
Identidad visual. Varios son los elementos y recursos que marcan la identidad visual. La idea de tener una imagen limpia y atemporal en la identidad corporativa, un color clave y un logo tipográfico que juega con una imagen actual, fresca y colorista que se representa en cada guía haciendo cada número único, pero cohesionado con el resto de ejemplares. 
Una tipografía corporativa que conforma el logo tipográfico Le Periplo es la fuente Morion. Una tipografía de serifa, elegante y formas suaves sinuosas donde los puntos y los signos de puntuación son en forma de rombo. Un recurso para marcar una localización, un recorrido. Otra tipografía principal también utilizada es Domain, una tipografía de serifa redondeada para títulos, textos de cabecera e introducciones destacadas. Y Furuta Std, una tipo de palo seco, para facilitar la legibilidad.
En la identidad visual corporativa juega un papel importante el color Marsala junto con blanco y negro.
Sistema gráfico. Mensajes en cuadrícula como bloc de notas, sellos de pasaporte con mensajes y la presencia de rombos para delimitar la distribución de la información.
Además de un sistema iconográfico creado para representar la recomendación "tip", donde cada icono queda en una línea inacabada como si fuera un recorrido.​​​
Editorial design. Each guide is presented on its cover and inside with two key colors that are throughout the guide. The predominant colors are based on the photography color palette of each city or country. The descriptions, recommendations and suggestions of the trip are distributed among the photography creating a series of editorial layouts depending on the recommendation type. A faithful editorial identity in each and every guides to differentiate the type of information that is provided and supporting the hierarchy. 
Illustration. To get out of the common guiding vision, some monuments are not shown photographically but are shown with an illustration, to break with that classic manner and show it in a more lively, artistic, different and visual way. 
Communication. An online brand with physical and digital products, however communication is mainly through RRSS and the site. Textual and visual message are displayed in a balanced way to reinforce the brand philosophy and the values ​​of its editorial identity. It is transmitted in direct, simple, precise language and is visually supported by photography and the different iconographic and typographic resources.
Diseño editorial. Cada guía es presentada en su portada y en el interior con dos colores clave que se desarrollan a lo largo de la guía. Los colores los marca la gama cromática predominante en la fotografía de cada ciudad o país. La descripciones, recomendaciones y sugerencias del viaje se distribuyen entre la fotografía creando una serie de plantillas en función del tipo de recomendación. Una identidad editorial fiel en todas y cada una de las guías para diferenciar el tipo de información que se proporciona y apoyando la jerarquía de la información.
Ilustración. Para salir de la visión de guía común, algunos monumentos no son mostrados fotográficamente sino que se muestran con una ilustración, para romper con esa forma clásica y mostrarlo de una manera más animada, artística, diferente y visual.
Comunicación. Una marca online con producto físico y digital, sin embargo la comunicación es principalmente a través de RRSS y la Web. Se muestra mensaje textual y visual de una manera equilibrada para reforzar la filosofía de la marca y los valores de su identidad editorial. Se transmite con un lenguaje directo, sencillo, preciso y apoyándose visualmente con la fotografía y los diferentes recursos iconográficos y tipográficos.
Packaging / Labeling. One of the values ​​of the brand is the experience, so the packaging had to fulfill a function that supports the value of traveling. This is solved with a box and a label on the outside, like a suitcase that goes with the destination label. Inside, a postcard like the old ones that were sent telling some curiosities or anecdotes of the place and a page mark, which represents the boarding passes of the suitcases as access to that trip.
Packaging / Labeling. Uno de los valores de la marca es la experiencia, por ello el packaging debía cumplir una función que apoye al valor de viajar y que sea de una manera más personal. Por esto se resuelve con una caja con etiqueta en su exterior, como una maleta que va con la etiqueta del destino. Y además dentro una postal como las antiguas que eran enviadas contando algunas curiosidades o anécdotas del lugar y un marcapáginas que representa los boarding pass de las maletas como acceso a ese viaje.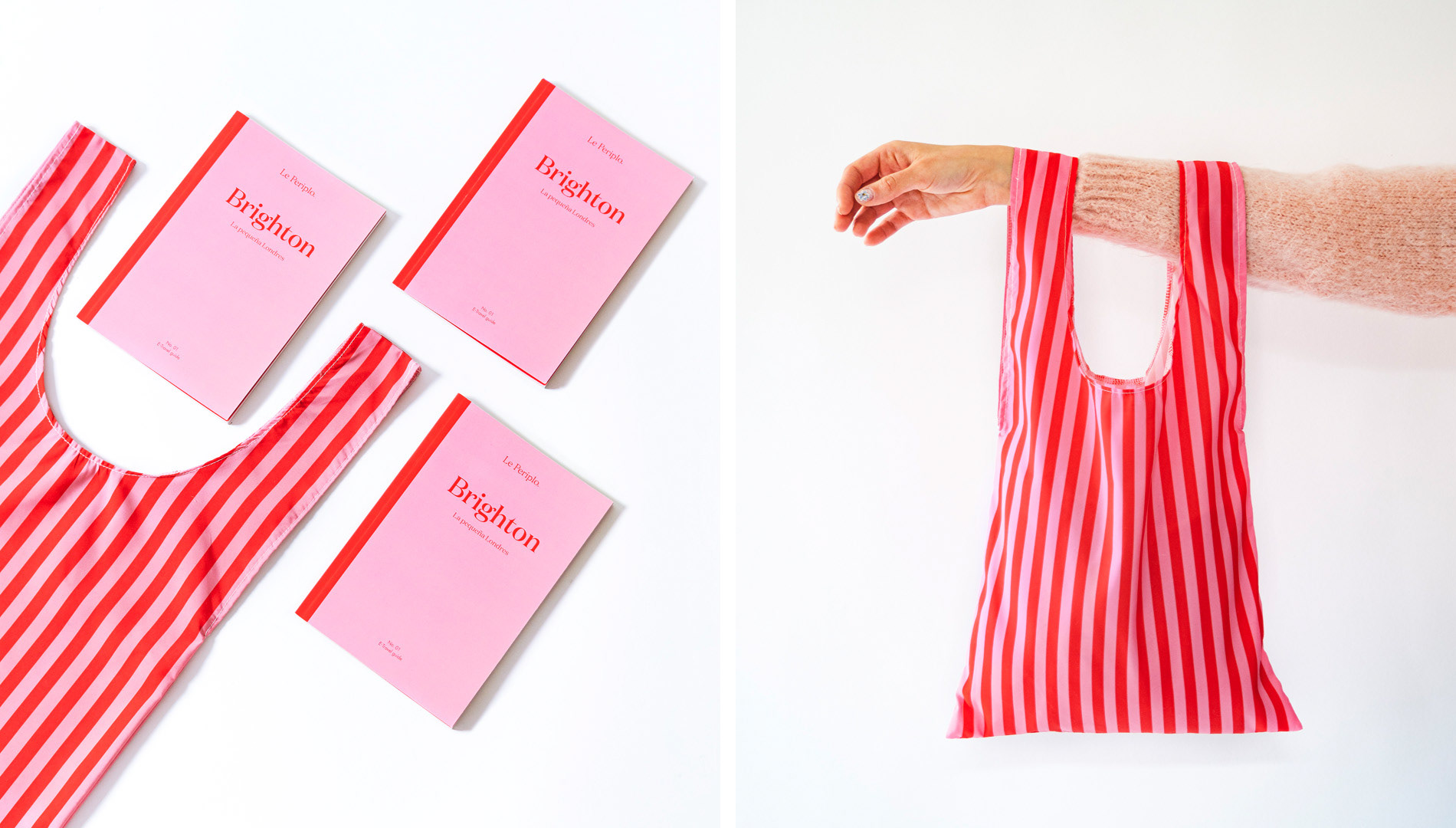 Merchan. The objective of product design for the brand is to reinforce the values ​​that the guides transmit, such as talking about stores or concept stores where the entrepreneurs, artists, and local designers of the city in question prevail. And especially supporting a small, aware and sustainable sector as an alternative habit to mass consumption. Complementary product design to the guides that will speak for themselves of these values: reusable handbags and tote bags, in favor of a habit of minimizing the consumption of plastic and promote the zero waste are the result of all this. Design of exclusive patterns for the reusable bags that represent the city or country of each published guide, and tote bags with a different quotes representing the values ​​and philosophy of the brand.​​​​​​​
Merchan. El objetivo del diseño de productos para la marca es reforzar los valores que transmiten las guías como es hablar de tiendas o concept stores locales donde priman los emprendedores, artistas, diseñadores locales de la ciudad en cuestión. Y especialmente, apoyando a un sector pequeño, concienciado y sostenible como un hábito alternativo al consumo de masa. Diseño de productos complementarios a las guías que hablan por sí mismos de esos valores: bolsas de mano reutilizables y las tote bags, en pro de un hábitos de minimizar el consumo de plástico, son el resultado de todo esto. Las bolsas reutilizables con un diseño exclusivo y un pattern diferente que representa la ciudad o país de cada guía publicada. Y tote bags con una frase distinta y representan los valores y la filosofía de la marca.